Blancpain hosts an exclusive event in celebration of the 60th Anniversary of the Fifty Fathoms
Blancpain hosts an exclusive event in celebration of the 60th Anniversary of the Fifty Fathoms
Blancpain, the world's oldest watch brand, hosted an exclusive cocktail reception on Wednesday, October 23rd in New York City to celebrate the 60th Anniversary of the brand's renowned Fifty Fathoms, the first modern diving watch.
Located on the beautiful Hudson River, the event was held at the Manhattan landmark, The Lighthouse. The unique waterfront establishment was transformed into an underwater oasis, making it the perfect environment to pay tribute to the brand's diving watch collection.
Guests enjoyed passed hors d'oeuvre and cocktails while freely viewing the dedicated exhibition which guided guests through the history of the legendary timepiece. Continuously projected on two oversized screens were beautiful underwater photographs taken by renowned divers and photographers such as Laurent Ballesta, Principal of the Gombessa Project, and Dr. Enric Sala, National Geographic Explorer In-Residence and Director of the Pristine Seas Expeditions with Blancpain who even recorded a video message for this occasion.
Displayed amongst the current Fifty Fathoms collection was a curated selection of vintage Fifty Fathoms timepieces which dated back as early as the collection's creation in 1953.
In his speech, Mr. Adam Bossi, Blancpain U.S. Brand Manager, spoke about the importance the first modern dive watch played in the diving world. Today, the 2013 Fifty Fathoms Bathyscaphe model appears in the wake of a fabulous lineage extending over more than half a century and still meeting the requirements of modern divers.
Mr. Adam Bossi, Blancpain U.S. Brand Manager, Mr. Frank Furlan, Swatch Group U.S. Country Manager, Mr. Antonio Lopez, Blancpain Vice-President
The celebration was amplified by a surprise aerial performance by the Heliummm Aerial Dance and Entertainment Group.
About the Fifty Fathoms Bathyscaphe
Since its creation in 1953, the Fifty Fathoms has always been the archetypal modern diver's watch. Now, 60 years on, two new models, a men's and a ladies', have joined the royal lineage. The vintage-inspired Fifty Fathoms Bathyscaphe, presented in Basel 2013, maintains its status as the crème de la crème of divers' watches by incorporating the silicon balance-spring to enhance its performance to a higher level.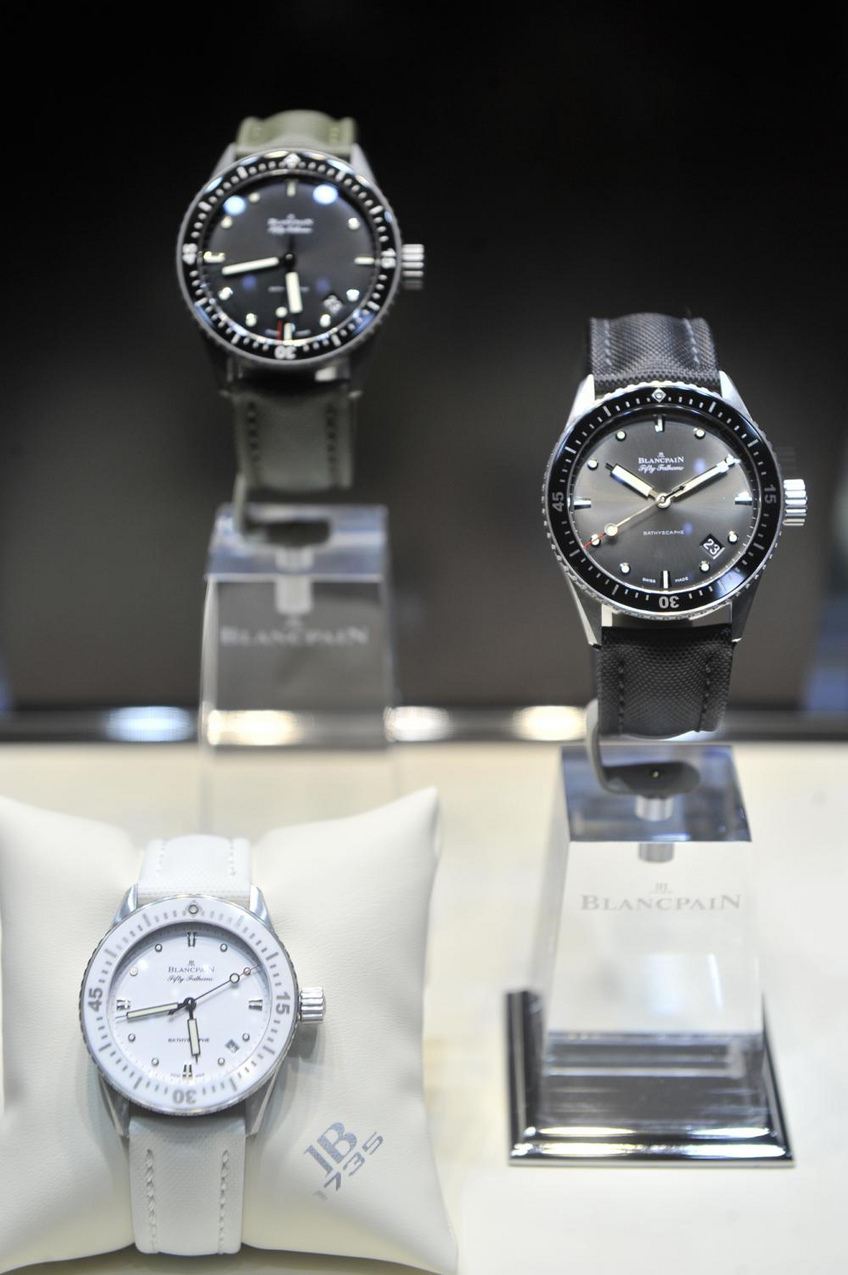 Blancpain Fifty Fathoms Bathyscaphe 2013
Taking inspirations from the abyssal underwater explorations of Swiss adventurer, Jacques Piccard, Blancpain's Bathyscaphe diver's watches were introduced in the late 1950s as models for both men and women. Imbued with the spirit of these historical models, the new Fifty Fathoms Bathyscaphe offers a modern interpretation of these two models featuring the integration of the latest technical innovations.